Guangzhou Hongwu Material Technology Co., Ltd.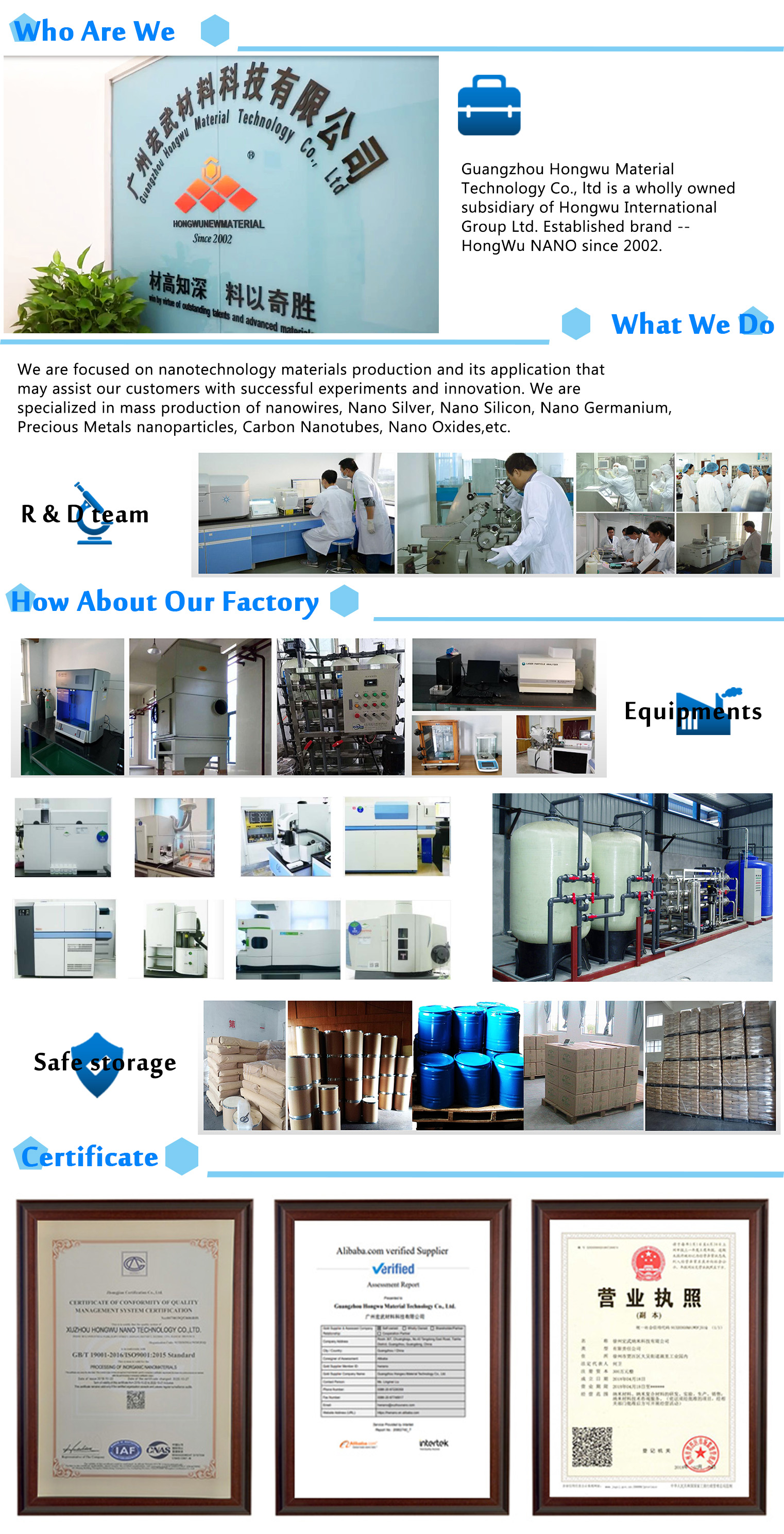 Guangzhou Hongwu Material Technology Co., Ltd. affiliates with Hongwu Enterprise Group, which owns the jurisdiction of four product research and development laboratory, a testing center, an applied research laboratory and a pilot test base, specializing in the commercialization of wide range of inorganic nanoparticles and innovative materials of 21st century since 2002.
Hongwu has been exploring markets, develoing innovative technologies, and providing breakthrough solutions using our nanomaterials expertise, committed to renovating the fall short of traditional materials.
Customized Nanoparticles are becoming more and more popular in the market, Hongwu's tailor-made nanoparticles can be optimized for every application. the Hongwu nanoparticles can also be formulated into nanoparticles coating, Shell core nanocomposites, Functionalized nanomaterials, nanoparticles dispersion, coloidal or suspension.
Interestingly, when familiar materials are processed to nanoscale, special surface effect, volume effect and quantum effect will appear, and their optical, thermal, electrical, magnetic, mechanical and even chemical properties will also change significantly accordingly. For example, nano silver particles have inproved antibacterial properties. nano gold, platinum and palladium particles show excellent catalytic capability. Metals can change their colors when are in nanosizes.
The innovative, high-performance nanomaterials are widely used in all aspects including but not limited to the automotive, biomedicine, electronics, information technology, petrochemical, plastics, ceramics, paint, metallurgy, solar energy and catalysis.
We sincerely invite you to contact us for further infomation about our company and our capabilities. If you want to buy nanomaterials or discuss nanotechnologies, please not hesitate to contact us.